VIDA+ CBD Face Serum
200mg
$99.99
VIDA+ CBD face serum relies on the powerful combination of stabilized Vitamin C, and a high purity Broad Spectrum Hemp Extract with naturally occurring CBD. We utilize modified form of Vitamin C that maintains its active state. Highly concentrated extracts of Green Tea, Aloe Vera, Grapefruit Oil, and Mandarin Oil work with Vitamin E to offer antioxidant and skin soothing properties, while leaving the skin smoother and highly moisturized.
VIDA+ CBD face serum is paraben-free, contains NO animal-derived materials and it's not tested on animals.
Vida+ uses SoluXome® technology which encapsulates key ingredients for optimal absorption into the skin and also uses Inflacin® technology that helps return skin to its baseline state.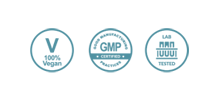 We currently ship within the U.S. only.
Ingredients